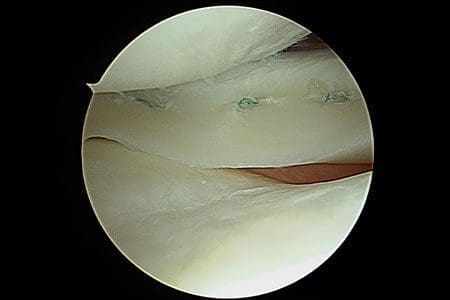 When the meniscus is torn in an area with blood supply, especially in younger, non-degenerative knees, our surgeons will suture the meniscus to facilitate healing. Many times, this is performed all-arthroscopic, but some tear patterns require a mini-open incision. Post-op, patients will ambulate with a brace and crutches for a period of time.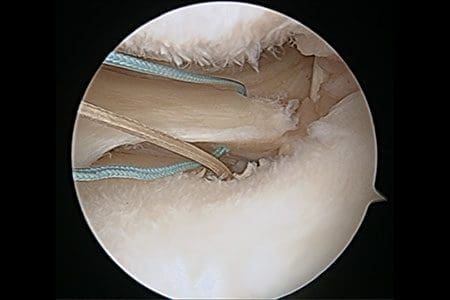 The meniscal root serves as the attachment point of the meniscus to the tibia. When torn, the stress across the joint is increased up to 50% leading to premature degeneration and arthritis. Some studies show untreated root tears progressing to knee replacement within 3 years in 30% of patients. As long as there is not significant arthritis, our surgeons reattach the meniscus through a bone tunnel in a technique called meniscal root repair. Post-op, this requires a brace, limited bending (flexion) and prolonged weight-bearing restrictions for 6-8 weeks.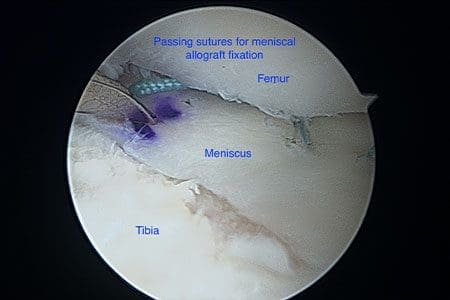 When the knee meniscus is damaged repetitively, or through a major trauma that renders it irreparable, our surgeons transplant a meniscus from a cadaver. After first performing a diagnostic arthroscopy to assess the damaged meniscus and other cartilage damage, we take measurements and size match the donor and recipient tibiae. We prepare a bony bed in the tibia which corresponds to the bone attached to the cadaver meniscus, and use multiple sutures to position and secure the new meniscus. Post-op, a brace is required, limiting bending to 90 degrees while allowing partial weight-bearing. This technique allows patients to return to low impact activities; we do not recommend return to high impact cutting sports.